S2E23 - Growing Gorgeous Fungi in The Desert - Sundown Mushrooms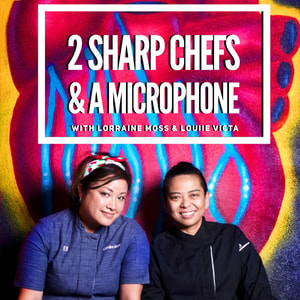 Las Vegas mycophiles make our mushroom dreams come true
Do you love mushrooms? Have you seen a mushroom bigger than a basketball? Myrene Delos Angeles makes mushroom magic in the desert at her urban farm, Sundown Mushrooms. She and her partner, Chester, started growing mushrooms in their Las Vegas abode as a hobby. But as their mushrooms grew bigger and bigger, their interest grew stronger and stronger. Myrene even mumbles a mantra when the process becomes tedious, "Keep mushrooming. Keep mushrooming." In this episode, you'll learn some of the unique health benefits specific mushrooms can offer. From help with memory to lowering blood pressure and easing anxiety, mushrooms might the food medicine you need in your life right now. The fungi fanatic also explains the best way to wash mushrooms and the best way to cut mushrooms (not with a knife!). And go to our YouTube channel to see a special "Show & Tell" as Chefs Lorraine Moss & Louiie Victa cannot contain their excitement when they see the size and the incredible beauty of Myrene's mushrooms.
Podcast Mentions: Intuitive Forager Farmers Market, fresh52 Farmers' & Artisan Market
Find out more at https://2-sharp-chefs--a-microphone.pinecast.co
This podcast is powered by Pinecast.