S2E17 - TACOTARIAN - Saving the World One Taco at a Time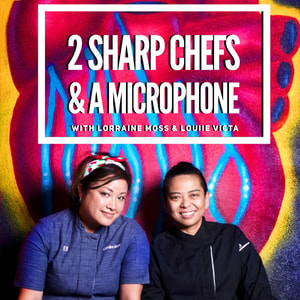 Downtown Las Vegas Delicious and Plant-Based
On Tuesdays, we eat TACOS. On October 4th, it's National Taco Day. And it's Hispanic Heritage Month. But do you really need an excuse to munch on a taco? For Carlos & Kristen Corral, being a tacotarian is a way of life. And they hope to make us all tacotarians. The Las Vegas couple started their plant-based Mexican eatery Tacotarian with their partners Dan & Regina Simmons after a delicious trip to Mexico City. They realized that it wasn't the meat that made the food so "MexiSexy" (yeah, we made up that word). It was the bold Latin flavors that came across just as well, and in some cases, even better with vegetables. Chefs Lorraine Moss and Louiie Victa learn about how the small business is trying to save the world one taco at a time, why the whole team has decided to go meatless, and how two married couples work so well together. For "Show & Tell" - Kristen & Carlos stay on brand with their delightful choice.
Podcast Mentions: Pujol, Garagiste, Esther's Kitchen, Crafthaus, Main St. Provisions, Gardein, Beyond Meat, Good Planet, Market on South, Gelatology, NSPCA
Find out more at https://2-sharp-chefs--a-microphone.pinecast.co
This podcast is powered by Pinecast.