S1E49 - Telling Stories with Food - Chef Justin Kingsley Hall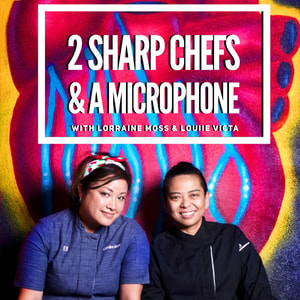 The Las Vegas chef who's at the helm of one of the most anticipated restaurant openings shares stories and secrets
He's known for cooking with fire and comfort food, but Las Vegas Chef Justin Kingsley Hall is foremost a culinary storyteller. When asked what will definitely earn a place on his menu at the highly anticipated, Main St. Provisions downtown, the hands-on father shares an evocative story about his grandfather's aviary... which leads to a SALAD! Chefs Lorraine Moss & Louiie Victa learn the "real deal" details on when Main St. may finally open and why he's hesitant about opening right after the quarantine is lifted. Hear how the outdoor grilling extravaganza Whiskey in the Wilderness could take place online and why this SLOtown boy is selling all of us on on slowing down. Also, check out our 2 Sharp Chefs YouTube channel for a fun "Show & Tell" with Justin's favorite magic pot.
Find out more at https://2-sharp-chefs--a-microphone.pinecast.co
This podcast is powered by Pinecast.