S2E28 - Ghost Unit Kitchen: Chefs Cooking Commissary Style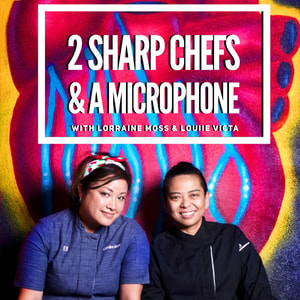 Sharing is caring and also more cost effective for many Las Vegas chefs
Ghost Unit Kitchen - Chefs Jonathan Batista & Jordon Dunewood
What do you know about Ghost Kitchens? They've been around a while, but their popularity is increasing as more and more people prefer grabbing food to go or getting it delivered to their homes. For Las Vegas small business owners, it's also helped many local chefs keep their concepts thriving and their costs down. Enter Ghost Unit Kitchen - a culinary "G Unit" of Chef Jonathan Batista's Latin/Caribbean empanadas and Chef Jordan Dunewood's Southern street food. They share a commercial kitchen with each other and several other Las Vegas restaurants. There's no dining room, but there's plenty of delicious food to sample. Hear about the chefs' backgrounds, how they met through Las Vegas non-profit Chefs For Vegas, and why they think this concept might be the future of food.
In 2 Sharp Chefs & A Microphone** Pandemic Provisions, Chefs Lorraine Moss & Louiie Victa** chat about their favorite shared food items. And in this week's chef Show & Tell, Jon brings a photo that he keeps in his food truck for inspiration, and Jordon shares a knife that gave him the confidence to keep moving up.
PODCAST MENTIONS: YourPanadas, Chef JD's Taste Kitchen, Valley Cheese and Wine, John Arena, Robert Irvine's Public House, Jolene Mannina, Vegas Test Kitchen, Justin Franco, Chefs 4 Vegas, Department of Agriculture, Get Fresh, Three Square, Vesta Food Service, James Beard Foundation
Find out more at https://2-sharp-chefs--a-microphone.pinecast.co
This podcast is powered by Pinecast.