S3E7 - Chef Nicole Brisson Brings It Back with Brezza & Bar Zazu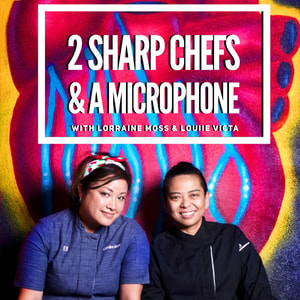 The James Beard nominated chef returns home to The Las Vegas Strip with two new restaurants at Resorts World
Chef Nicole Brisson is Back with a Breeze & A Bar at Resorts World
Chef Nicole Brisson is well known for her commanding presence in some of the most storied kitchens on the Las Vegas Strip. And after a quick stint off The Strip, she's back where she thrives - at a massive luxury resort opening on the Boulevard, Resorts World.
"I have so many customers that are sprinkled all over the United States who have been following me for years. And I feel like I'm creating a home for them again at Bar Zazu and Brezza. And I can't wait to welcome my guests back home and cook for them and give them a fun environment to relax and enjoy food and wine," said Brisson.
The veteran Las Vegas chef chats with Chefs Lorraine Moss and Louiie Victa about heritage breeds, sustainable seafood, and why she will use White Oak in her new wood-fired grill at Brezza.
Brisson also shares how she plans to take care of herself mentally this time around. In this candid conversation, the three chefs make a commitment to each other and the chef community at large to check in more and make sure everyone's okay.
In Show & Tell, the former Executive Chef of Eataly Las Vegas shares a beautiful story about why she DOESN'T have one of the tools she would have liked to show us.
PODCAST MENTIONS: Chris Decker, Gina Marinelli, James Beard Foundation, Bon Appetit, Mary Sue Milliken, Susan Feniger, Christina Tosi, Elizabeth Blau, Jason Rocheleau, Bazaar Meat, Jose Andres, Frank Reese, Hashimoto's, Creekstone Farms, Aaron Franklin, Jolene Mannina, Brian Howard, Gary LaMorte 
Find out more at https://2-sharp-chefs--a-microphone.pinecast.co
This podcast is powered by Pinecast.