S1E46 - Immune Boosting Ingredients - Chef Jainine Jaffer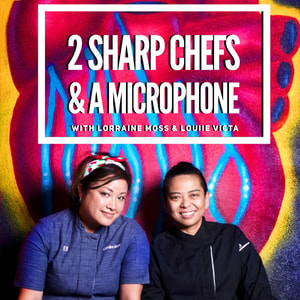 The Executive Chef of Shiraz Las Vegas focuses on her healthy meal prep business
Food as Medicine. In the time of COVID-19 and excessive hand washing, who doesn't want a stronger immune system? That's where Chef Jainine Jaffer, Executive Chef of Shiraz Las Vegas, excels. While the restaurant she helms is closed temporarily because of the COVID-19 pandemic, the California born chef is concentrating on her healthy meal prep business.
Chef Jainine helps people with compromised immune systems get the immune boosting nutrition they need.
Lorraine Moss and Louiie Victa learn how she gives her clients increased immune support with food, why the chef follows a Halal diet, and why she feels more in tune than ever with her delicious food culture.
Also, in a new 2 Sharp Chefs segment - SHOW & TELL - Chef Jainine shares one of her favorite kitchen tools. It's a food gadget both Lorraine and Louiie have NEVER seen before!
Find out more at https://2-sharp-chefs--a-microphone.pinecast.co
This podcast is powered by Pinecast.