S2E24 - Toasted Sister: Learning About Indigenous Food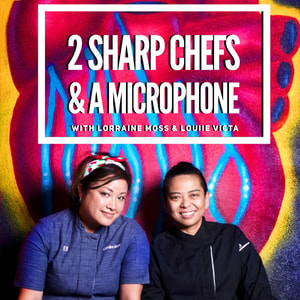 Honoring Native American Heritage Month with Andi Murphy
Toasted Sister, A Native American food story
How much do you know about indigenous foods? Have you made an effort to learn about our history with Native American cultures? It's Native American Heritage Month. November marks a time for us to celebrate the diverse cultures and traditions of Native people. It started in 1990 with a declaration by President George H. W. Bush. With more than seventy indigenous food interviews in her Toasted Sister podcast compendium and the most important native chefs on her speed dial, Andi Murphy believes she's still at the very beginning of her education. Although the Navajo journalist grew up on the reservation, she ate many of the same sugary, processed foods as most Americans. Chefs Lorraine Moss & Louiie Victa chat with the Native journalist about food sovereignty, what it means to her, her family, and her people. Andi also addresses how she feels about Thanksgiving and how we can celebrate the holiday and ALSO be cognizant of its history and impact on indigenous people and culture.
FUN FACT: _The Three Sisters_ of Native American Food culture are corn, beans, and squash. In Native legend, those three crops are interdependent and must grow and thrive together.
Podcast Mentions: Native America Calling, Chef Nephi Craig, Chef Elena Terry, Native American Culinary Mentorship Program, Chef Nico Albert, Chef Sean Sherman
Find out more at https://2-sharp-chefs--a-microphone.pinecast.co
This podcast is powered by Pinecast.