S2E25 - Your Greatest Food Memories - A 2 Sharp Chefs Thanksgiving Special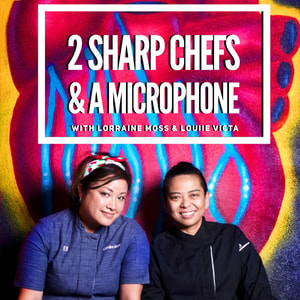 We gathered some of the best food memories of your favorite Las Vegas chefs & hospitality people
What is your most evocative food memory?
What food or restaurant takes you back to your happiest, funniest, most cherished moments?
Anthony Bourdain once said, 'Context and memory play powerful roles in all the truly great meals in one's life."
Chefs Lorraine Moss & Louiie Victa share the food moments that charmed their childhoods. For Lorraine, it's a root beer float and French fries at A & W with her grandpa, Eric Baptista. For Louiie, it's a braised beef noodle at a Chinese restaurant in the Philippines with their parents, Ligaya and Horacio Victa.
You will fall in love with all the positivity in this 2 Sharp Chefs & A Microphone Thanksgiving Special. You'll also get to hear the beautiful food memories of:
John Arena, Metro Pizza Co-Owner/Pizzaiolo Yassine Lyoubi, Barry's Downtown Prime Co-Owner Xenon Mallari, Happy Ending Chocolate Owner/Chocolatier Derek Stevens, Circa Las Vegas Owner Penny Chua & Sabrina Chutima, Lotus of Siam Myrene Delos Angeles, Sundown Mushrooms Owner Elizabeth Falkner, Celebrated Chef/Consultant Gary Francis Xavier LaMorte, Honest Hospitality Founder/Chef Mariana Alvarado, MasAzul Chef/Owner Brian Howard, Sparrow + Wolf, Chef/Owner
Enjoy! Happy Thanksgiving. It's been a challenging year. We got your back. Thank you for listening and supporting this two women food podcast. It's a labor of love and a culmination of a culinary storytelling dream for us.
Podcast Mentions: Bazaar Meat, Andi Murphy - Toasted Sister Podcast, Bay Meadows, Amore da Roma, Magic Pan, Chef Thomas Keller, Chef Jose Andres, Chef Mary Sue Milliken, Chef Susan Feniger, Magnolia
Find out more at https://2-sharp-chefs--a-microphone.pinecast.co
This podcast is powered by Pinecast.