S3E5 - Regarding HER: Helping Women's Restaurants Survive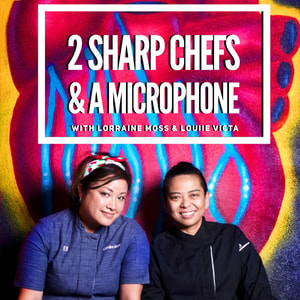 Celebrity Chef Activist Mary Sue Milliken talks about the new non-profit supporting women chefs and restarateurs
RE: HER - Saving Women's Restaurants
Chef Mary Sue Milliken prefers to put activist at the forefront of her storied cooking career. The 63 year old former Food Network "Too Hot Tamales" chef started a new non-profit at the end of 2020 with 8 other female chefs in Los Angeles called Regarding HER Food.
"The community seems to just be hungry to support women-owned businesses. There's sort of an understanding that these little 'Mom and Pop' & 'Mom and Mom' restaurants are what knit together our communities and keep us connected to each other. And if we lose them, what do we have?" says the Border Grill, Socalo, and BBQ Mexicana chef co-owner.
Mary Sue also tells Chefs Lorraine Moss & Louiie Victa how she finds balance with physical AND mental healthcare strategies. The James Beard Foundation board member talks about her most recent experiences lobbying Congress and explains why chefs prove to be the perfect people to get policy passed.
Plus, in Show & Tell, she shares a sad story about an old scale that holds special meaning in her chef journey.
You don't want to miss this candid conversation with a true OG in the hospitality industry in Los Angeles, Las Vegas, and across the globe.
PODCAST Mentions: Women's Hospitality Initiative, Let's Talk, Chef Rohini Dey, Oxfam America, New American Rescue Plan Act 2021, Share Our Strength, Al-Anon, The Chef Show, Chef Roy Choi, Jon Favreau, I Cook in Color - Chef Asha Gomez, Jubilee - Toni Tipton-Martin, The Milk Carton Kids, Waffles & Mochi, Michelle Obama
Find out more at https://2-sharp-chefs--a-microphone.pinecast.co
This podcast is powered by Pinecast.