S3E8 - Good Pie: Honoring Pizza Tradition - Vincent Rotolo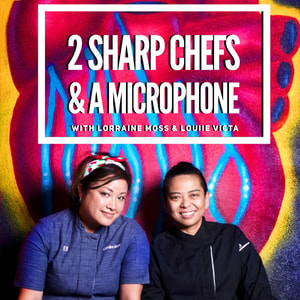 A New York manhole and grandma-style pizza on Main Street Downtown Las Vegas
Good Pie, Good Vibes
Shut your pie hole, and listen up! Go where the pizza is so good that there is nothing else you can call it but Good Pie. Brooklyn born Vincent Rotolo was destined to dedicate his life to the perfect slice. He started in the hospitality industry at just thirteen slinging pizzas at the legendary John's of Bleecker St. in New York City.
"When you hit like thirteen, and you're a Rotolo, you work at John's and figure out your spending money. You're cut off of allowance… and it's been a pizza love affair ever since," said the Good Pie owner.
Rotolo chats with 2 Sharp Chefs Lorraine Moss and Louiie Victa about the origin behind "grandma-style pizza" and explains why he displays a wall full of grannies at his Downtown Las Vegas shop.
For Show & Tell, he demonstrates the importance of his special dough room and talks about why the process started well before his restaurant opened.
Podcast Mentions: Big Gay Ice Cream, James Beard Foundation, Mei Lai Wah Bakery, MasAzul, King Umberto, Larry Johnson, Spike Lee, John Arena, Chris Decker, Monzu, Brian Howard, Gary Lamorte, Jolene Mannina, Justin Kingsley Hall
Find out more at https://2-sharp-chefs--a-microphone.pinecast.co
This podcast is powered by Pinecast.