S3E1 - 2 Sharp Chefs Best of 2020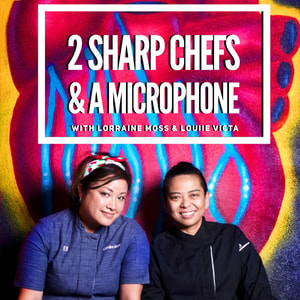 The chefs share their favorite podcasts of 2020
2 Sharp Chefs Best Of 2020
Happy New Year! 2020 was a tumultuous year, but you pushed through it with us. And we are proud of our progress as we pivoted from recording on location at restaurants and casinos to social distancing on Zoom.
To kickoff Season 3 of 2 Sharp Chefs & A Microphone, Chefs Lorraine Moss & Louiie Victa share some of their favorite guests and podcasts of 2020 starting with the powerful speaker, Punam Mathur, Co-Founder of Delivering With Dignity. She talks about our "native gifts" and how you can find your true calling.
You'll also here from Chef Mariana Alvarado of MasAzul, Chef Gina Marinelli of La Strega, Pizzaiolo Chris Decker of Metro Pizza, Jolene Mannina of SecretBurger.Com, Katherine Miller, VP of Impact at James Beard Foundation, & the Pizza Godfather, John Arena, Co-Owner of Metro Pizza.
We're excited to be back, and as always, WE GOT YOUR BACK!
Podcast Mentions: Anova, Eater Las Vegas, Bon Appetit, GoodPie, Soulbelly BBQ, Vegas Test Kitchen, Lotus Of Siam, Toridokoro Raku, Julia Child, Mary Sue Milliken, Susan Feniger
Find out more at https://2-sharp-chefs--a-microphone.pinecast.co
This podcast is powered by Pinecast.