S2E30 - It's in His Soulbelly - Chef Bruce Kalman Rocks BBQ in Las Vegas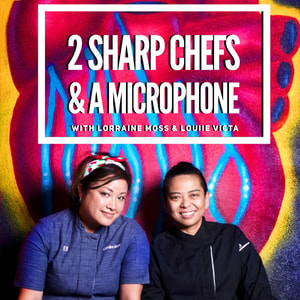 The Jersey transplant talks about cooking with fire, partnering with a Foo Fighter, & fatherhood
What's a Soulbelly, and Why Does it Rock?
Do you ever feel like a rockstar in the kitchen? Do you know about Foie Grock? There's a new grill guy in town, and his brisket is inspired by his love of music almost as much as his decades of cooking experience. You may recognize Chef Bruce Kalman from Bravo's _Top Chef_ or that time he _Beat Bobby Flay_ at his own game, but the Jersey transplant is celebrated most by his adopted son, Jude. In this 2 Sharp Chefs & A Microphone podcast, Bruce shares his BBQ secrets with Chefs Lorraine Moss & Louiie Victa. The cover band frontman talks about his upcoming downtown restaurant, Soulbelly BBQ and explains why he chose Las Vegas as his new business location AND his new home. PLUS - you'll hear stories about what it's like to grill with Grohl of the Foo Fighters and sing with the Ace of Cakes. Don't miss this inspiring and entertaining interview!
In Show & Tell, you'll learn about the most important part of Bruce's life, and it's not brisket.
Podcast Mentions: Chef James Trees, Chris Decker, Backbeat BBQ, Dave Grohl, Foo Fighters, Pantera, Whiskey Dick, Foie Grock, Chef Duff Goldman, Ace of Cakes, Beat Bobby Flay, Bravo's Top Chef, Meatloaf, Secretburger.com, Drago's
Find out more at https://2-sharp-chefs--a-microphone.pinecast.co
This podcast is powered by Pinecast.