S3E4 - Al Solito Posto - In the Usual Place, Not the Usual Chef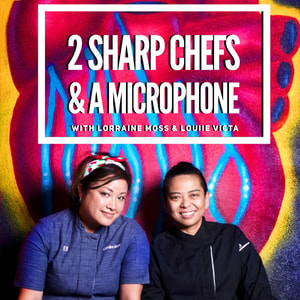 For Women's History Month, Chef Emily Brubaker talks about the importance of female restaurant leadership
A Woman's Place is in the Professional Kitchen
Have you checked out the new Summerlin sensation at Tivoli Village? In Italian, Al Solito Posto means "in the usual place." But according to statistics, its Executive Chef Emily Brubaker is NOT the usual person at the helm. Although more women than men are graduating from culinary schools across the United States, just seven percent of females hold top positions in the professional kitchen.
That isn't lost on Emily who runs her kitchen with collaboration at its heart. Al Solito Posto in Las Vegas is a stick-to-your-ribs East Coast style thick red sauce Italian restaurant with sublime bread and cocktails as well. The former Sage at Aria chefs tells 2 Sharp Chefs Lorraine Moss & Louiie Victa that the perfect focaccia took some major research and development before it baked beautifully.
In Pandemic Provisions, Lorraine and Louiie talk about the origin of Women's History Month and our city's Women's Hospitality Initiative. Also, in Show & Tell, Emily shows us the smallest, most important tool in her arsenal.
Plus - you don't want to miss our adventures in sourdough starter and why you might someday see a unique version here in Las Vegas.
Podcast Mentions: Kamala Harris, Elizabeth Blau, Jolene Mannina, Mary Choi Kelly, Summerlin, Esthers Kitchen, Chef James Trees, Las Vegas Raiders, Joel Robuchon, Chef Gary FX LaMorte, Tasty, Chef Benoit Cornet, PF Changs, EDO Tapas, Chef Oscar Amador, Garagiste, Golden Knights, Beehive Barely Buzzed, Quentin Tarantino, Moonlight Beach
Find out more at https://2-sharp-chefs--a-microphone.pinecast.co
This podcast is powered by Pinecast.