S3E2 - Coffee Cravings: Passion for the Perfect Roast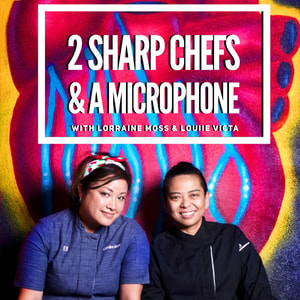 Josh Molina geeks out on coffee and Colombian pastries at Take It Easy Roasters
From Makers & Finders to Take It Easy Roasters
You've been abuzz at Makers & Finders in Downtown and in Summerlin. Now the coffee shops' young owner, Josh Molina, wants you to chill out at his Chinatown coffee spot, Take It Easy Roasters.
Josh is no sloth - as his mascot at Take It Easy might suggest. The young entrepreneur owned 2 successful coffee hot spots in his twenties! And at his new Chinatown location, he's showing off his high-tech roaster, a Diedrich IR12 roaster to be exact. He explains to 2 Sharp Chefs, Lorraine Moss and Louiie Victa, that the fancy roaster helps his team create the perfect roast over and over again.
From making his way through the coffee countries of South America to discovering the nuances of each pour through coffee cupping, the first generation Colombian-American is bringing something special, delicious, and fascinating to our burgeoning caffeine scene. If you're a coffee nerd, you'll love what you can learn from this Las Vegas roaster. If you just want to enjoy a cuppa now and then, listen for the laughs as Josh tells us that there are no age limits on coffee drinking. And Lorraine states that, "Spitters are quitters." Yep, you have to press play to understand.
Podcast mentions: John Arena, Metro Pizza
Find out more at https://2-sharp-chefs--a-microphone.pinecast.co
This podcast is powered by Pinecast.