S2E18 - Preserving Mexican Tradition: Heirloom Corn Tortillas - MasAzul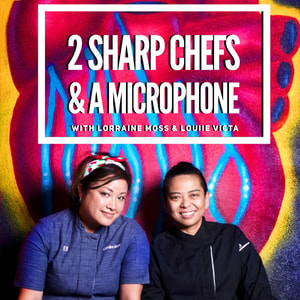 Las Vegas Chef Mariana Alvarado explains why nixtamalized corn tortillas are more nutritious and delicious
Have you ever eaten a traditional Mexican tortilla? Las Vegas Chef Mariana Alvarado says most of us have NOT because of decades of selfish politics and greed. That's why she started MasAzul, a small business that prides itself on using heirloom Mexican corn to make traditional nixtamalized corn tortillas. In honor of Hispanic Heritage Month, Chefs Lorraine Moss & Louiie Victa learn the history and process of nixtamalization, how it creates more delicious and nutritious tortillas, and why this is Mariana's life's passion. For "Show & Tell", she shows us a rainbow of heirloom corn and what each varietal produces. Make sure you press play on 2 Sharps Chefs YouTube channel to see it all. Also, the chef shares her exciting, "life changing" experience cooking with the staff at the new Henderson practice facility for the Las Vegas Raiders.
You will never see a tortilla the same way again. And that makes Chef Mariana very happy and proud.
Podcast Mentions: Las Vegas Raiders
For this podcast's Pandemic Provisions, Lorraine and Louiie discuss their favorite traditional Mexican delicacies while travelling in Mexico (pre-pandemic, of course). Thanks for listening!
Find out more at https://2-sharp-chefs--a-microphone.pinecast.co
This podcast is powered by Pinecast.