S2E21 - Happy Ending Chocolate - Halloween Special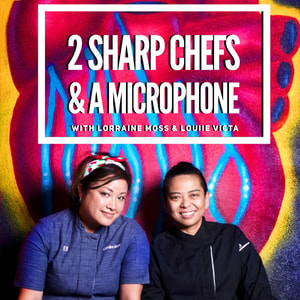 Las Vegas Chocolatier Xenon Mallari combines artisan chocolate and ice cream tacos with comic books and cocktails
I scream. You scream. We can all scream for ice cream tacos and comic books, right? Las Vegas Chocolatier Xenon Mallari chats with 2 Sharp Chefs, Lorraine Moss & Louiie Victa about pairing his mint condition books with his mint flavored desserts for his delicious dessert business, Happy Ending Chocolate.
Find out his secrets for tempering chocolate, how his boxing background has helped him keep his eyes on the tasty prize, and why chocolate is his OBSESSION.
Plus - the chocolatier's Show & Tell is a real thing of beauty. See his sexy hand forged Damascus knife that goes back to an old Instagram friendship.
Podcast mentions: International Marketplace, Reese's, Kit Kat, Fred Dex, Beat Bobby Flay, Life is Beautiful, Mothership Coffee, Ferguson's Downtown, Mamba Mentality, Khoury's, Forged In Fire, Mareko Maumasi
Find out more at https://2-sharp-chefs--a-microphone.pinecast.co
This podcast is powered by Pinecast.