S2E15 - A Pizzaiolo & That's Enough - John Arena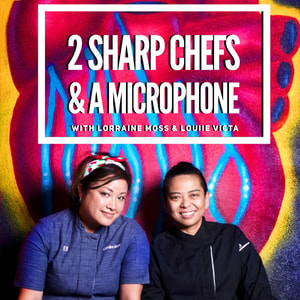 Las Vegas Metro Pizza owner talks about the history and importance of PIZZA through the generations
John Arena keeps an old note inside his favorite pizza book. It reads "Sono un Pizzaiolo, e basta!" It translates to "I'm a Pizzaiolo, and that's enough!" The pizza maker is co-owner of Metro Pizza in Las Vegas, a joint that harks back to a time of mobsters and classic crooners. In Vegas, he's thought of affectionately as "The godfather of pizza" or as Chef Dan Krohmer calls him "pizza Yoda"; interestingly, he may be known better outside of the city than in his own neighborhood. A member of America's number one pizza team, "World Pizza Champions," Arena became a pizza professor when he started teaching a class at UNLV Hospitality on the "History and Culture of Pizza."
In this podcast, he shares with Chefs Lorraine Moss and Louiie Victa the origins of pizza around the globe from Egypt to Italy to the United States. The New Yorker explains why ANYONE should be able to express themselves by making pie whatever way they choose (including with pineapples and/or Ranch dressing). And he talks about why we need to think more about where food comes from and why in the hospitality industry, we should favor collaboration over competition. This is a rare, raw, and thought-provoking conversation with one of the premier pizzaiolos in the country.
Podcast Mentions: Chris Bianco of Pizzeria Bianco, UNLV Hospitality, The Pizza Book by Evelyne Slomon, Chris Decker (Instagram: @everythingbutanchovies), Spacca Napoli, TriBecca Allie Cafe - Sardis MS
Find out more at https://2-sharp-chefs--a-microphone.pinecast.co
This podcast is powered by Pinecast.