S3E6 - Cravin' Creole - Chef Will Staten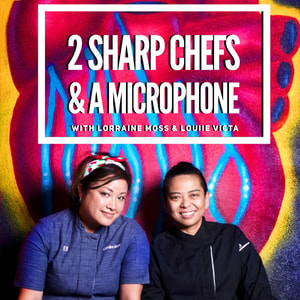 Las Vegas chef cooks up the flavors of his family's history
The Origins of American Cooking: From Louisiana to Las Vegas
Chef Will Staten feels at home when he's cooking, tasting, and sharing the flavors of his family's history. To the Las Vegas based chef, Cajun and Creole dishes manifest the true origins of American cooking.
The multiracial chef with roots in the South prefers the heat of habaneros, but he also likes to comfort his Cravin' Creole food truck customers by letting them choose their own adventure in terms of spice level with BYOG - "Build Your Own Gumbo."
Will spices it up with Chefs Lorraine Moss and Louiie Victa explaining why he's so passionate about food truck life, martial arts, and bringing fresh food to underserved communities - feeding the city's most vulnerable.
In Show & Tell, he shows 2 Sharp Chefs something that seems so simple, but adds a new organizational twist that gets Louiie thinking. We think you'll fall in love with Cravin' Creole.
PODCAST MENTIONS: Ragin' Cajun Cookin', Lotus of Siam, Jolene Mannina, Chef James Trees Esther's Kitchen, Chef Bruce Kalman Soulbelly, Momofuku, Mordeo
Find out more at https://2-sharp-chefs--a-microphone.pinecast.co
This podcast is powered by Pinecast.