S1E48 - For The Love of Cheese - Diana Brier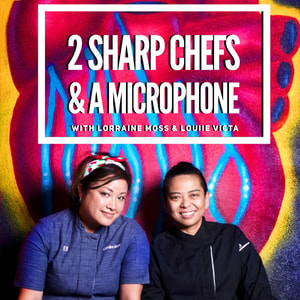 Did you know you could craft a career around cheese? Meet a Las Vegas Cheese Monger!
It may sound cheesy, but 2 Sharp Chefs can never get enough cheese - so Lorraine Moss & Louiie Victa invited a professional cheese monger to geek out on their favorite dairy product. Diana Brier is 1 of 45 American Cheese Society's Certified Cheese Sensory Evaluators in the world.
The Las Vegas affineur is known as the "Wonder Woman of Cheese" for her cheesemaking skills and her expertise in all things curds and whey!
Learn about what it takes to be a cheese expert, the intricacies involved in being an affineur (one who ages cheese), and why making Brie can be a romantic experience.
And check out the 2 Sharp Chefs & A Microphone YouTube channel for a special edition of "Show & Tell" where Diana creates a delectable cheese board with expertly curated "funky cheese pairings".
This is a can't miss episode for anyone who can't live without cheese. Say Cheese! And listen now!
Find out more at https://2-sharp-chefs--a-microphone.pinecast.co
This podcast is powered by Pinecast.