S1E50 - Conjuring Coastal Flavors in The Desert - Chef Gina Marinelli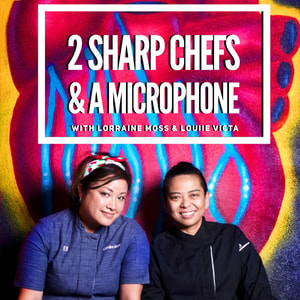 Las Vegas Chef brings the Italian Coast to La Strega. "The Witch" is in the kitchen.
You can taste her journey through coastal Italy in every bite. From her first visit to the delicious country, Las Vegas chef Gina Marinelli knew that this was the food she would serve in her own restaurant, La Strega, one day. And now after living that dream for a little more than a year, the celebrated local chef tells Chefs Lorraine Moss & Louiie Victa how she's rethinking and retooling her successful business. Like many chefs and owners have had to do during this pandemic, Gina shut down the Summerlin restaurant temporarily before reopening for take-out only. Find out why she plans to hold out before allowing people to "dine in" again. And hear how she embraces her feminine side to create a space where everyone feels safe. Plus - the Italian chef brings a very unusual stamping tool for our segment, "Show & Tell". Trust us, this charismatic La Strega chef will bewitch you.
Remember, you can now also watch 2 Sharp Chefs on our YouTube channel.
Find out more at https://2-sharp-chefs--a-microphone.pinecast.co
This podcast is powered by Pinecast.