S2E19 - Fierce Fit Chef - Elizabeth Falkner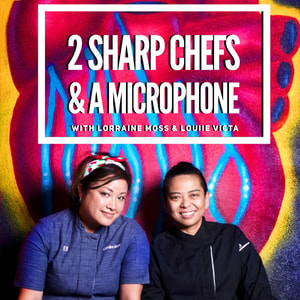 She's the ultimate competitor in the kitchen, on television, in life.
Food Show Competitor. Fierce Activist. Fitness Enthusiast. And you've got a front row seat. Whether Chef Elizabeth Falkner fights in a Food Network duel or curls cast iron pans, she works it like an Olympic athlete. The well known chef chats with Chefs Lorraine Moss and Louiie Victa about why we all need to think like athletes. She offers helpful tips on how to keep healthy and in shape even when you work long hours in a restaurant. Currently in editing on a chef documentary about what the hospitality industry needs to survive, she doesn't mince words about how we can all make positive change in the current situation. Elizabeth also talks about how you can benefit from her years of culinary/pastry experience by booking an online class at 100 Pleats.
PODCAST Mentions: Susan Feniger, Mary Sue Milliken, Nyesha Arrington, Chez Panisse, Antonia Lofaso, Brooke Williamson, A Fine Line, Bake The Vote, Feed The Vote, Julian Serrano, Nancy Silverton, AAPTIV
Find out more at https://2-sharp-chefs--a-microphone.pinecast.co
This podcast is powered by Pinecast.