S2E22 - Pop 'N Pies: From Pandemic to Pie Business - Chef Andrea Mclean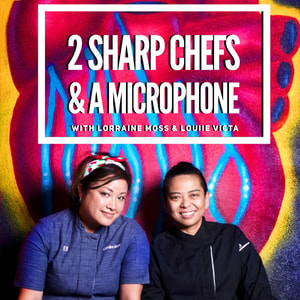 Las Vegas fine dining pastry chef starts dream business when pandemic puts her out of work
What did you do during the pandemic? Las Vegas pastry chef Andrea Mclean put together her love of pop culture and pies to create Pop 'N Pies. And just a few months in, her delicious desserts are poppin' up across the valley. The young chef has also secured some awesome collaborations with Chef Brian Howard of Sparrow + Wolf and Jolene Mannina, owner of SecretBurger.com. The pie chef shares how her fine dining experience, in the kitchens of the late Joel Robuchon and the Michelin starred Thomas Keller, helped shape her small business. For Show & Tell, she brings a pastry tool that both Chefs Lorraine Moss & Louiie Victa covet respectfully.
Podcast mentions: Libby's, L'Atelier De Joel Robuchon, Instagram: Sam Artsy Pants, Thomas Keller, Bouchon, Sparrow + Wolf, SecretBurger.com, Waitress
Find out more at https://2-sharp-chefs--a-microphone.pinecast.co
This podcast is powered by Pinecast.