S2E29 - Christmas Edition: Tamales & Family - El Tamalucas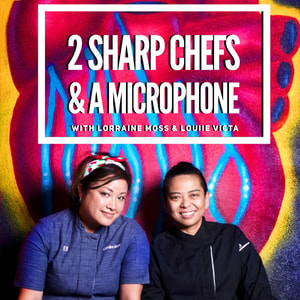 From knocking on doors to 18K followers, a Las Vegan man's dedication made Dad's dreams come true
Tamales & Familia
Merry Christmas family! Feliz Navidad. Happy Hanukkah. Have you ever had a dream that took years to accomplish, but kicked into high gear after one BIG life event?
It took time, a lot of experimentation, and a ton of tenacity for Saul Talavera to take El Tamalucas to the tamale heights he's experiencing today. The Las Vegas tamalero used to talk with his father, Saul Talavera, Sr., about starting a tamale business one day. They would kick a few back and dream, but the idea never materialized. Solo un sueno.
When his father died in 2014 and Saul, Jr. lost his job, his wife pushed him to take a chance on their family's tamales. It wasn't easy, and at times, it felt impossible. In this 2 Sharp Chefs episode, El Tamalucas owner explains to Chefs Lorraine Moss & Louiie Victa how he finally got people to listen, try his family's recipes, and queue up for hours just to get a taste.
In Show & Tell, Saul shares a cooler that looks more like a rock guitar case and carries the sentimental value of a priceless heirloom.
Podcast mentions: Sonic, Foodbeast
Find out more at https://2-sharp-chefs--a-microphone.pinecast.co
This podcast is powered by Pinecast.